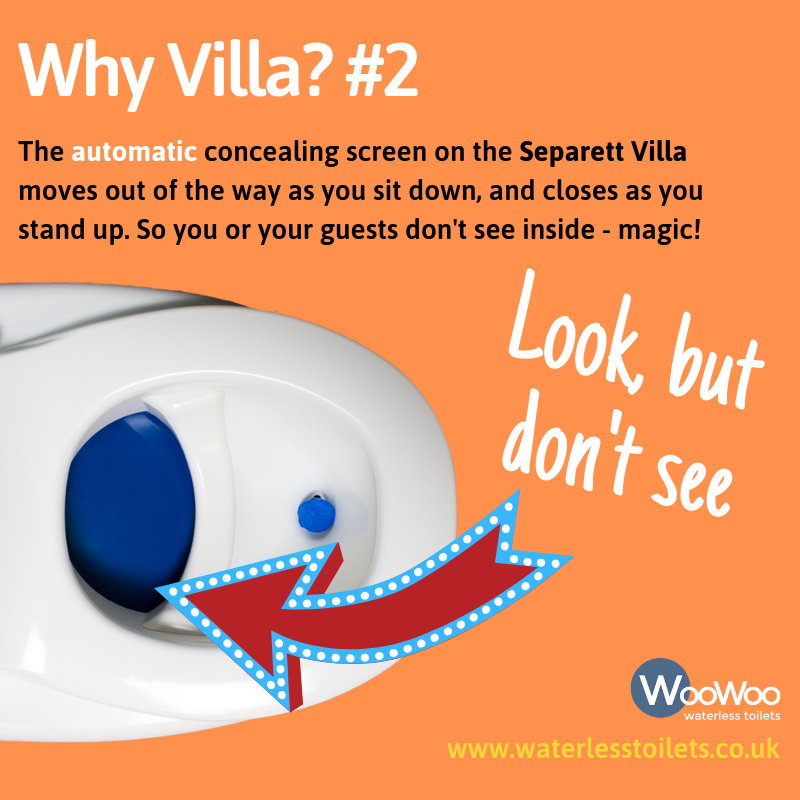 The automatic concealing screen on the Separett Villa 9000 and 9010 moves out of the way as you sit down, and closes as you stand up. So you, or your guests don't see inside – magic!
Let's face facts – people don't especially want to look inside a compost toilet and see what the previous person has done. Likewise, the thought of the next user looking at what you've done, probably doesn't thrill you! That's why #Separett developed the automatic concealing screen on the Villa 9000 and 9010 models.
When you open the toilet seat, a blue screen covers the solids bucket. Sit down, and a simple, mechanical system swings the screen open to allow solids and toilet paper to drop through. Stand up and the screen closes automatically.
It's simple and patented, and it works great! It's especially useful if your toilet is going to be used by holiday guests (like a Shepherd's Hut, Glamping Site or Air BnB etc) as it helps then overcome any anxieties they might have about using a compost toilet.
To find out more about the unique features of the Separett Villa, why not give us a call or drop us an email?
You can also find out more in our webshop: Separett Villa 9000 (230v mains) and Separett Villa 9010 (12v DC).