The following terms do not apply to items that have been made to order, such as Kazuba and WooWoo Loo. Exceptions may also be made for 'special order' items that are imported or built specifically at your request and that are not normally held in stock by WooWoo Waterless Toilets.
The cost of delivery depends on your delivery country, the delivery service and the weight or bulk of the items you are buying. The cost of delivery is calculated in the checkout. Some items are delivered free within the UK.
We aim to process your order within one working day, subject to stock availability. If we are unable to fulfil your order (perhaps due to lack of stock), we'll let you know and give you the option to cancel your order or wait.
Once you place your order online, you will receive an email order confirmation – this lets you know that we've received your order.
When your order has been dispatched, you'll get a further email or a text message which will contain any tracking information (courier deliveries only).
Depending on the weight and final destination, your order will either be sent Royal Mail First Class post or DPD (Courier).

Orders Delivered in the UK by Royal Mail
Although orders are usually sent first class, please allow up to three working days for goods to arrive. Order sent Royal Mail do not usually require signature.

Orders Delivered in the UK by Courier (DPD)
Orders are usually dispatched on a 'next working day' delivery basis, although like all couriers, this is not guaranteed. On the day of dispatch, if you have provided us with your mobile number, DPD will issue a text confirming dispatch and to alert you of the likely delivery day. On the day of delivery, you will receive a text message giving you a one hour delivery window and options of what to do if you are unable to accept it. A signature is required on delivery, although you can choose to have a parcel delivered to a safe place. We reserve the right to use an alternative courier company where necessary, which may have an affect on delivery times and notifications.

Orders Delivered outside the UK by Post
Orders sent through the post will be passed onto your national postal service for delivery to your address. Depending on the country and service used, tracking information may not always be available. For most countries, please allow 5 to 7 working days for delivery. We do not charge VAT on non-UK sales, however, you may be asked to pay VAT or duty on import  – more info on this below.

Orders Delivered outside the UK by Courier
Depending on the destination country, a range of different couriers may be used. We will endeavour to provide you with tracking information where possible. Due to the way different couriers operate, it may not be possible to advise you of a day or time of delivery (although some do offer this service). For most countries, please allow 3-5 working days for delivery (although the customs process is beyond our control and has the potential to cause delays). A signature is usually required on delivery. We do not charge VAT on non-UK sales, however, you may be asked to pay VAT or duty on import – more info on this below.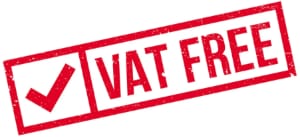 No VAT on Orders Delivered outside the UK
In light of post-Brexit changes, the regulations concerning sales to non-UK customers (including those in Ireland) have evolved. However, WooWoo are committed to ensuring our customers do not bear additional costs. As such, we will gladly refund any customs duties and administrative fees you might incur.
When you place an order for delivery to a non-UK address, you'll notice a reduction in our price. This adjustment reflects the exclusion of UK VAT (20%). However, upon the package's arrival in the destination country, customers are typically required to pay the respective VAT. Because VAT rates in European countries hover around 20%, it essentially means that the reduction in the UK VAT usually balances out with the local VAT charges of the destination country.
In some instances, as your package crosses international borders, it may be subject to customs duties or even administrative fees. If such charges arise, please retain your receipt and forward it to us. We will promptly refund these additional fees to your account.
We believe our non-UK customers should enjoy the same pricing benefits as our UK clientele. Should you have any questions or need clarification, our dedicated team is always at your service. Please feel free to reach out.