The roof of the KL1 and KL3, and the side walls of the KL2 are clad in a heat treated wood product called ThermoWood ®. We chose it because of its stability, but other benefits are its low maintenance, and lower impact on the environment than comparable products. We consider it an environmentally friendly material because it's increased natural resistance means it is not necessary to treat Thermowood against rot and mould, and because only high temperature and steam are used, no chemicals or other extraneous constituents are added to wood in the the manufacturing process. This page summarizes its properties drawing on the documentation available from the International Thermowood Association and UK distributors, Metsawood and Vincent Timber.
ThermoWood ® is thermally modified timber produced by heat treating Finnish grown Pine and Spruce to temperatures in excess of 200 degrees Centigrade. During heat treatment, chemical and structural changes occur within the timber which alter and improve some of its basic characteristics.
Durability. Equilibrium moisture content decreases, moisture shrinkage decreases, greater resistance to rot and mould, better weather resistance.

Visual effect. Wood gets thoroughly colored, resin is evaporated away.

Physical effects. Bending strength somewhat decreases, wood gets lighter. Swelling and shrinkage are reduced.
The resulting product is an altogether more durable and stable timber, an ideal material for use in exposed areas such as external wall claddings.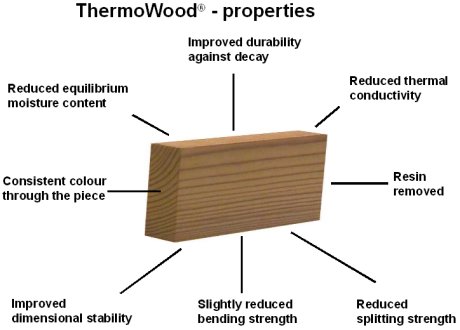 ThermoWood ® Key Relevant Properties
Standard tests (EN 113, ENV 807) made in laboratory conditions have proven a significant improvement in biological durability. Improvements in biological durability are a result of the removal of natural food sources in the wood and also changes in the chemical and structural
composition. Levels of resistance to fungal decay increase as higher temperatures are used. ThermoWood is recommended to be used in hazard classes 1 to 3 in accordance with EN-335-1 without the need for any further chemical protection. The treatment is throughout the wood piece and is not subject to leaching problems. The heat treatment process means uncoated Thermowood-D exterior cladding can provide a 30-year desired service life.
As with most materials, ThermoWood is unable to resist the effects of ultraviolet radiation. As a result, over a fairly short period of time when exposed to direct sunlight, the colour changes from the original brown appearance to a grey weathered colour. In addition the ultra violet radiation can cause small surface shakes to occur. Natural effects of rain and sun will cause some early wood to be removed from the surface, especially on un-coated boards, this occurs with all wood material over time. It is highly recommended to apply a pigment based surface protection to prevent colour changes and other natural effects of the weather, more information can be found from the Finnish ThermoWood association surface coating handbook.
The timber used to produce ThermoWood-D is grown in Finnish forests which are fully certified under the Finnish Forestry Certification System and Pan European Forestry Certification. As such ThermoWood-D is sourced from well managed and sustainable forests. The heat treatment process requires no chemical additives. The improved performance is achieved by the controlled application of heat and steam.
ThermoWood-D is more stable than untreated softwood. The changes that occur within the timber during heat treatment make it less able to absorb or lose moisture. This restriction of moisture movement limits any potential for swelling, shrinkage or distortion of ThermoWood-D cladding boards.
Uncoated Thermowood-D exterior cladding can provide a 30-year desired service life. Heat treatment removes resin from timber. As a result there is no resin leakage or 'bleed' through the surface coatings. The combined effect of this together with the improved stability can lead to a lower maintenance requirement.
Thermally modified timber sustains its dimensions extremely well. In indoor use, this property can be put into good use, especially in the making of floors, furniture, and fixtures. It is easier to keep a surface clean when it has been finished. Thermal modification increases the decay resistance of wood to such a degree that in theory, the installation direction of wood in façades should no longer make a relevant improvement to weathering.
However, weather does still place a lot of strain on the mechanical durability of wood, and in practice, the installation of sapwood outwards has proved to be an essential and effective solution for improving the weathering abilities of wood.
If you decide upon a surface coating the following factors should be taken into consideration:
the absorption of finishes is generally slower, and there are more variations in permeability in different parts of the wood

in long-term use, there are clearly less cosmetic problems caused by resin, because a great percentage of resin has been removed during the thermal modification process. As a consequence, knots might not necessarily require special treat ment when finishing a surface

the improved dimensional stability of wood decreases peeling and cracking of the coating in changing conditions

the cell tissue on the surface of thermally modified timber must be opened as usual before treatment in order to ensure and optimise fixing.