Description
The GeoTrap nutrient filter box is designed to purify the leachate or seep liquid that comes out of the WooWoo GT range of composting toilets. Inside the GeoTrap Dry filter is the GeoTrap Nutrient Trap mineral which absorbs nutrients (eg. phosphorous and nitrogen) from the leachate liquid. The resulting purified liquid can be led directly to the ground.
The GeoTrap filter box is the perfect addition to the WooWoo GT composting toilet where there is a nitrate or phosphate neutrality requirement or recommendation.
Please note that the GeoTrap filter is unsuitable for urine-diverting toilets – it cannot be used for pure urine.
The GeoTrap mineral has been developed by Åbo Akademi University in Finland. The included mineral sand naturally absorbs and locks in nitrogen and phosphorous. For most users, the mineral sand should be replaced once a year – the used mineral can be composted or applied directly to ornamental plants as a fertiliser, where the nutrients become bio-available.
The GeoTrap filter works in all temperatures as the filtration is not dependent on bacterial activity.
Installing the GeoTrap
The GeoTrap Nutrient Filter box should be set into the ground, behind your WooWoo GT composting toilet, so that the liquid inlet connector is in line or slightly lower than the outlet on your WooWoo GT or GT Lux composting toilet base. Use the flexible pipe that comes with your WooWoo GT toilet to connect to the inlet side of the GeoTrap, trimming the pipe if required.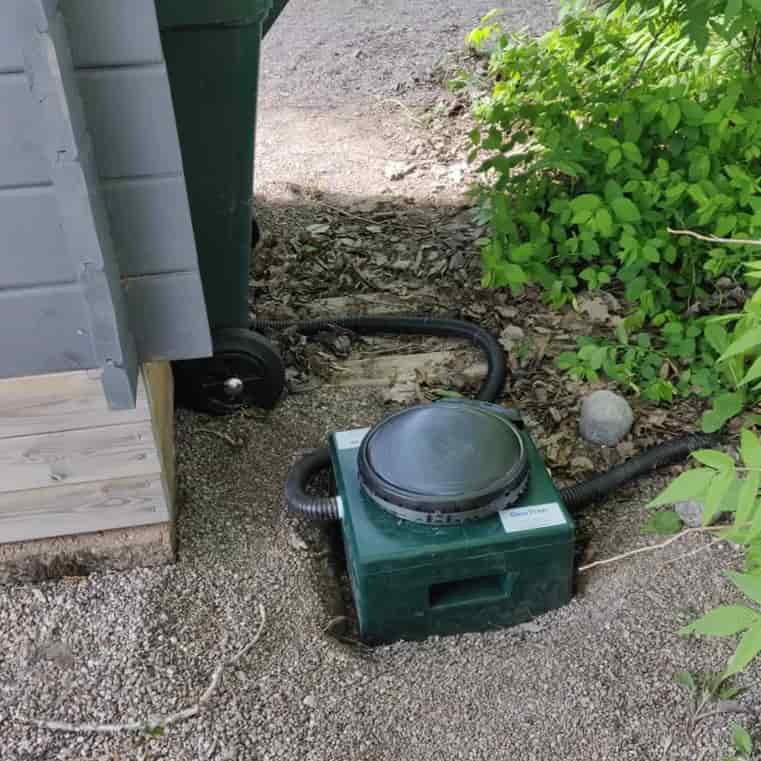 Connect the supplied outflow hose to the outlet on the GeoTrap and lead this pipe to the ground, ideally around large plants or trees. Do not lead the outlet directly into a water source.
Contents
GeoTrap Dry Toilet Filter with lid
Outflow hose, Ø 32 mm, length 1,5 m
GeoTrap filtering mass, 5 kg bag
Specifications
Height: 30 cm
Length: 35 cm
Width: 35 cm
Incoming hose at 16 cm from bottom, outcoming hose at 14 cm from bottom
Volume: 25 L
Weight (empty): 2.5 kg
Material: PE
Performance
The Geo Trap filter mass, being a natural product, is difficult to deliver precise cleaning measurements on. In addition, the concentrations of the various elements in the incoming leachate will differ greatly between users. However, regular 'real world' analysis in Finland, shows that Geo Trap – correctly maintained, and when dealing with leachate from a WooWoo GT composting toilet, will give a cleaning efficiency of around 77% for phosphorus and 73% for nitrogen.