Our reputation gives you peace of mind
The WooWoo Loo is a complete off-grid, waterless compost toilet solution that's delivered and installed on your site by our skilled team. We've spent a long time researching and refining the design and ensuring all components are precisely specified to ensure it will last and work as you'd expect it to.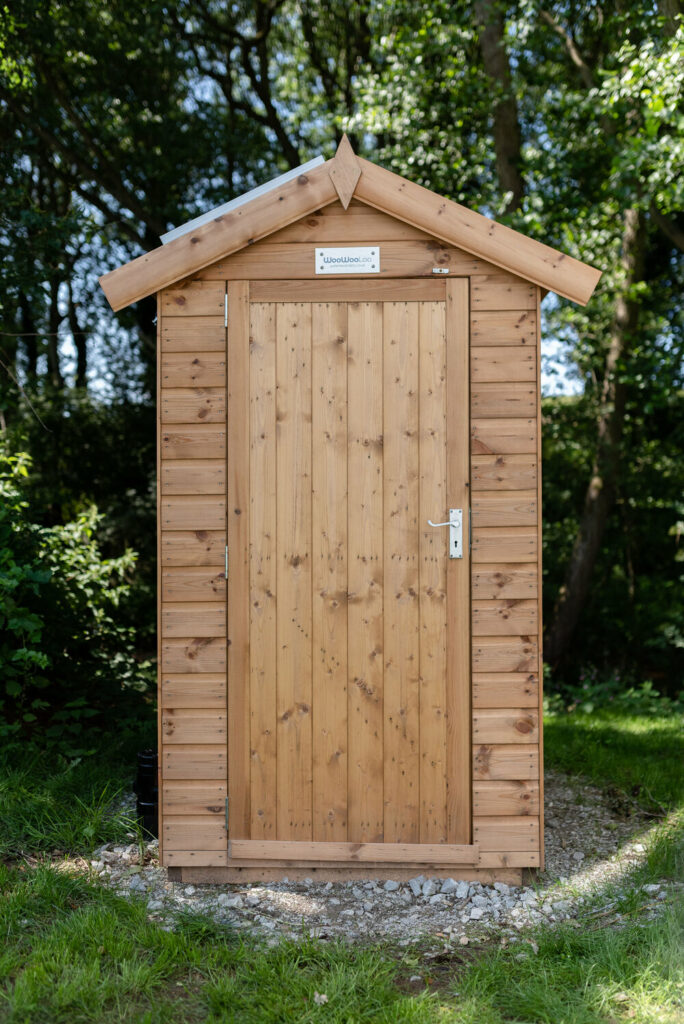 Built with WooWoo's famously high standards
The WooWoo Loo comprises a high quality wooden building that houses a Separett Villa waterless compost toilet, together with a solar panel and battery that provides ample power to run the ventilation fan in the toilet, giving the user a simple, and odour-free experience – no sawdust required!
Easy and stress free installation
All you have to do is provide a level base, such as concrete slabs, for the building to sit on, and to have pre-dug a small soak-away pit (for the urine to run into). We'll take care of everything else, taking away the time, stress and hassle of working out what works with what and who to source it from. In most cases, the WooWoo Loo can be installed in one day and is ready for immediate use! Click here to read more about this.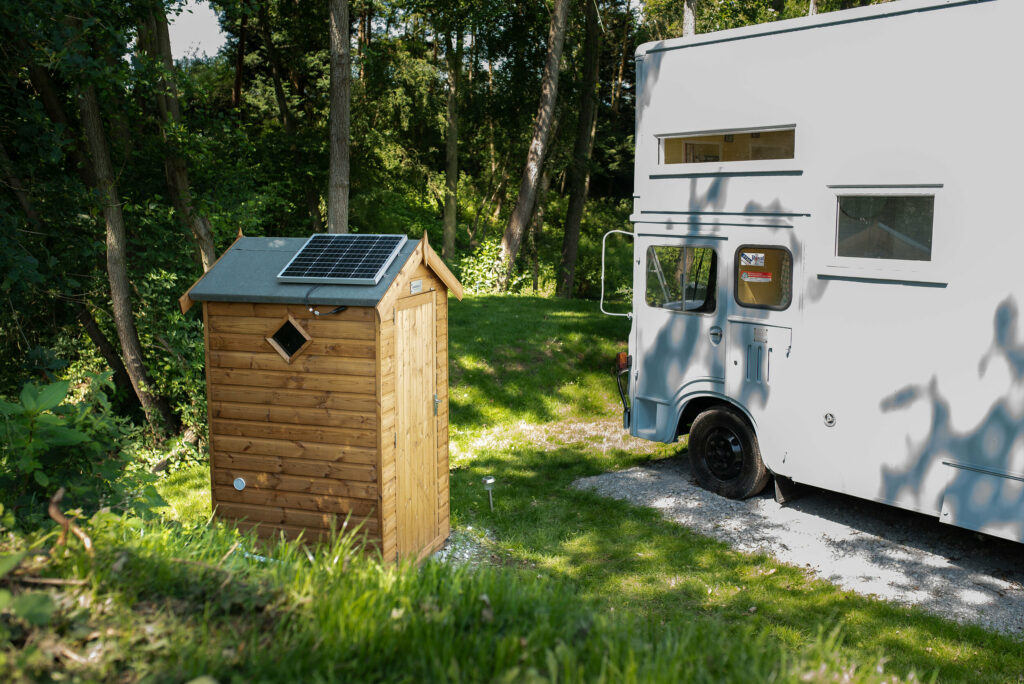 WooWoo Loo is ideal if you need to provide a quality toilet facility in a location away from mains sewers, water and/or electricity. In your garden, stables, allotment, glamping site, or retreat centre.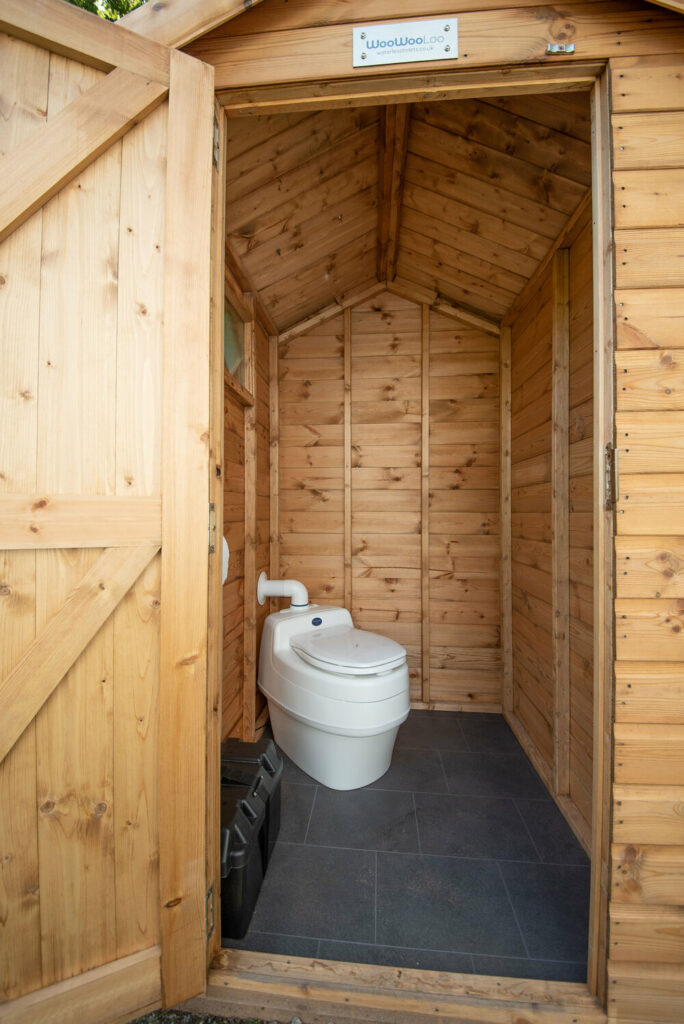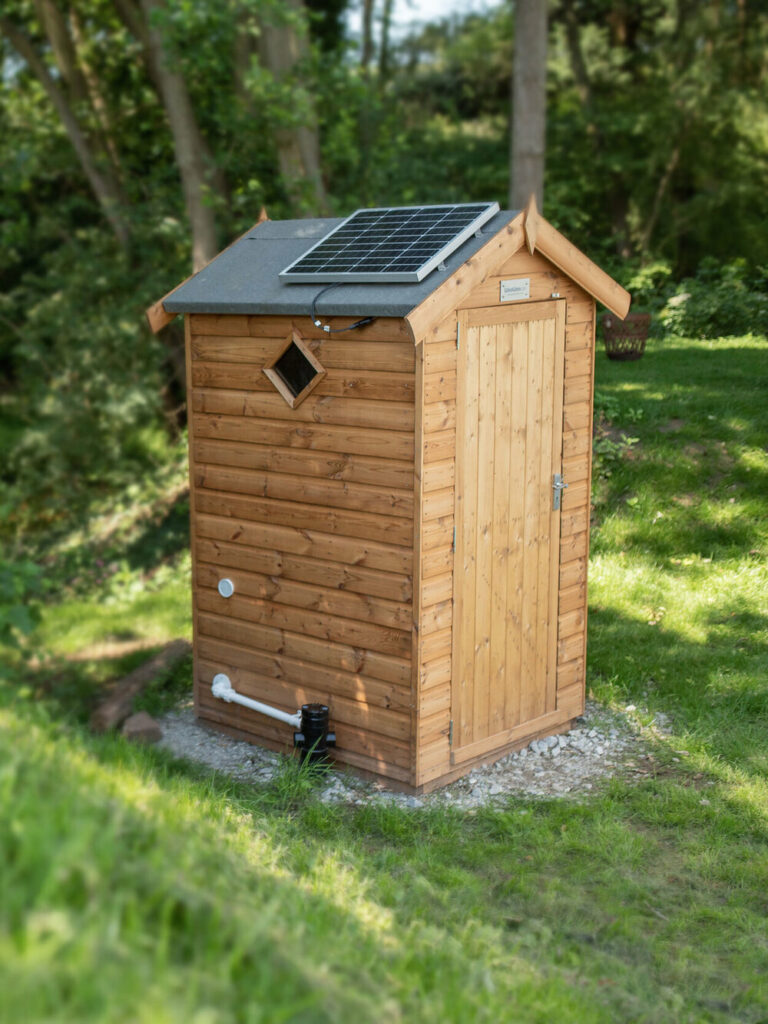 The WooWoo Loo has unlimited capacity for urine because it runs to an external soak-away pit. The solids container in the Separett Villa has the capacity to take up to 60 uses before it needs to be emptied. The contents are emptied into a compost bin – the process takes just minutes and the toilet can be back in action again.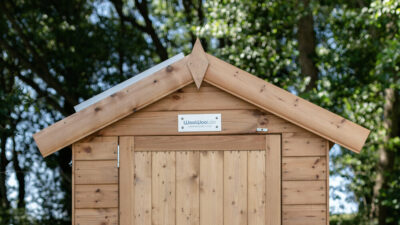 Attractive apex roof wooden building with pleasing proportions
Blends into many surroundings. Apex roof provides options for optimal solar panel placement and size ensures all users have ample space and won't feel cramped or restricted.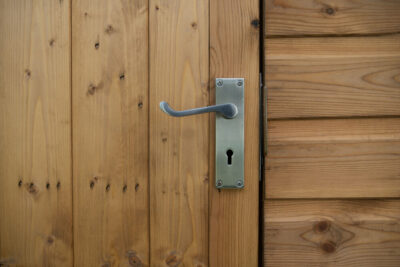 High quality base, frame and cladding, treated with professional wood preservative.
Solid wood construction with heavy duty base, quality vinyl flooring material over matchboard floorboards. Matchboard roof with heavy duty felt. Tongue and groove panelling and engineered door with latch and lock. Diamond shaped window to one side with privacy glass.
Separett Villa luxury waterless compost toilet
Proven, attractive, urine-diverting toilet has an automatic concealer screen, hiding the contents from the user until they sit down at which point it automatically opens. Wipe-clean hard plastic looks attractive and sanitary. Continuously running ventilation fan removes all odours and eliminates the need to add any messy cover materials.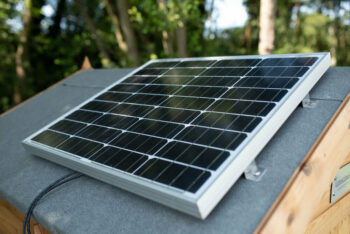 Solar Panel & battery
The solar system is over-sized to ensure it works all-year round*, even under periods of adverse weather conditions and will keep the durable, long-life battery topped up. The rigid panel has a 10 year warranty and is securely bolted in place. If your location isn't suitable for solar, or if you have mains nearly, you can connect to a 230v connection. *Panel must face due south with no shadows etc.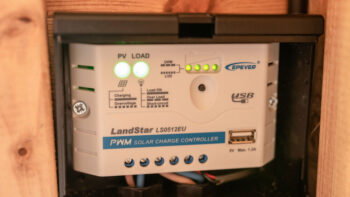 Quality installation
Our installation team will construct the building, fit the solar system, install the toilet, and connect everything together on the agreed date. At the end of the day, the WooWoo Loo will be ready for use!
Pre-sales and after-sales service
Pre-sales consultation includes running through the location to ensure the solar system will work optimally at your site and that the WooWoo Loo will meet your expectations in terms of usage, functionality and maintenance. Because WooWoo supplies and installs, we provide a complete after-sales service to give peace of mind and ensure your investment is cared for.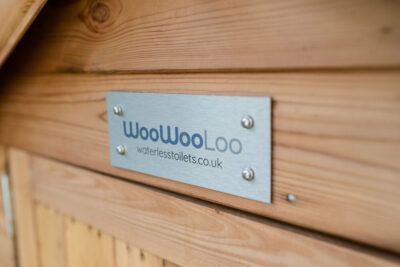 Our reputation gives you peace of mind
WooWoo have been at the forefront of compost toilet solutions since 2008. Starting with the popular Kazuba municipal off-grid waterless toilet, we later became distributors for Separett waterless toilets which appeal to the home and glamping markets. Why not give us a call so you can have a chat with our friendly and knowledgeable team? You'll find our contact details below.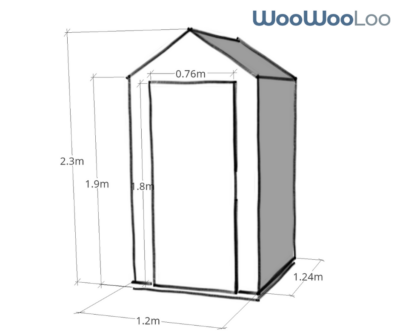 Compact, with a larger option
The standard WooWoo Loo is generously proportioned and is approximately 1.2m x 1.2m (4 foot square) with a maximum roof height of 2.3 metres. The eaves height is 1.9 metres, giving plenty of shoulder room inside. The door is 1.8m tall by 76cm wide.

If you need a more accessible space, we can also supply a slightly larger unit of 1.5m x 2.1m (approx. 5' x 7'), with the same roof and eaves height. The door on the larger unit is around 90cm wide (35"), but is a standard 'shed' door in place of the engineered door.

In most cases, planning permission is not needed as it's classed as a temporary structure, although do check with your local council. If you are within a national park, area of outstanding natural beauty, world heritage site or conservation area, then planning permission almost certainly will be required.