Fully accessible waterless toilet.
Its wooden frame makes it even more environmentally friendly.
Easy to use.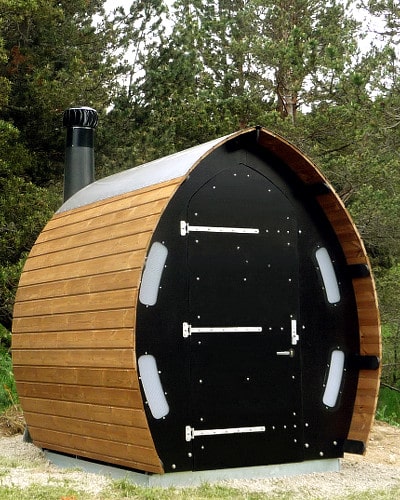 ---
Technical Description
The structure base is comprised entirely of hot dipped, galvanised steel, ensuring long lasting strength and resistance to corrosion. All nuts and bolts are of stainless steel.
The wall sections are made from high density, birch plywood with a phenol external surface. This construction offers excellent stability and high UV resistance in external usage. Cut edges are treated with acrylic to prevent humidity ingress.
The roof is made up from heat-treated, Thermowood™ pine siding. The wood is FSC certified and, treated without the use of chemicals in a patented process, ensures a stable and durable product which we have selected also for its aesthetic value. This wood has been our preferred choice for over 4 years.
The roof cap is manufactured in brushed, anodised aluminium, a finish which ensures long lasting protection against usage and corrosion.
---
Resources
Helpful documents you can download and share