Description
The perfect cabin to compliment the WooWoo GT compost toilet where you wish to provide higher capacity through multiple toilets in a single building. Please note that the photos show a painted/treated cabin – the building is supplied unpainted!
The WooWoo GT Wooden Cabin Double Cubicle is made in Finland to the same high standard as the regular WooWoo GT Cabin, but with two individual cubicles. Each cubicle is designed to accommodate the WooWoo GT compost toilet starter kit (not included with the cabin). It includes the internal bench seat and fascia and a rear cut out to enable either the WooWoo GT 120 or GT 330 to be slid in/out.
You will need to purchase two WooWoo GT 120 or 330 Starter kits for this cabin, along with suitable lengths of ventilation pipework.
The stylish and functional Scandinavian design includes a striking circular window in the door and a large pent roof to keep the worst of the rain and weather away from the structure, meaning it will be less prone to rot and decay.
The bulk of the construction is 20mm, Finnish Spruce, with a little bit of Finnish Pine (used in the door and floor joists). The family-owned manufacturer started in business in 1936 and only uses local Finnish timbers, grown and harvested as sustainably as possible. They are part of the local climate action network and work hard to reduce the amount of waste produced from the manufacturing process, with what is left being used to heat the factory.
The joists are pressure treated/impregnated pine to resist rot and decay. All other wood is untreated and will require a suitable coating such as clear, stained or a suitable paint (we highly recommend OSMO products).
How big is it?
Externally, the building has a width of 3m and a depth of 2.1m not including the roof overhang.
Each cubicle has an overall internal width of 1.4m and a depth of 2m. The internal height slopes from 2.3m at the front down to just under 2.1 at the rear, presenting a large, airy space for the occupant.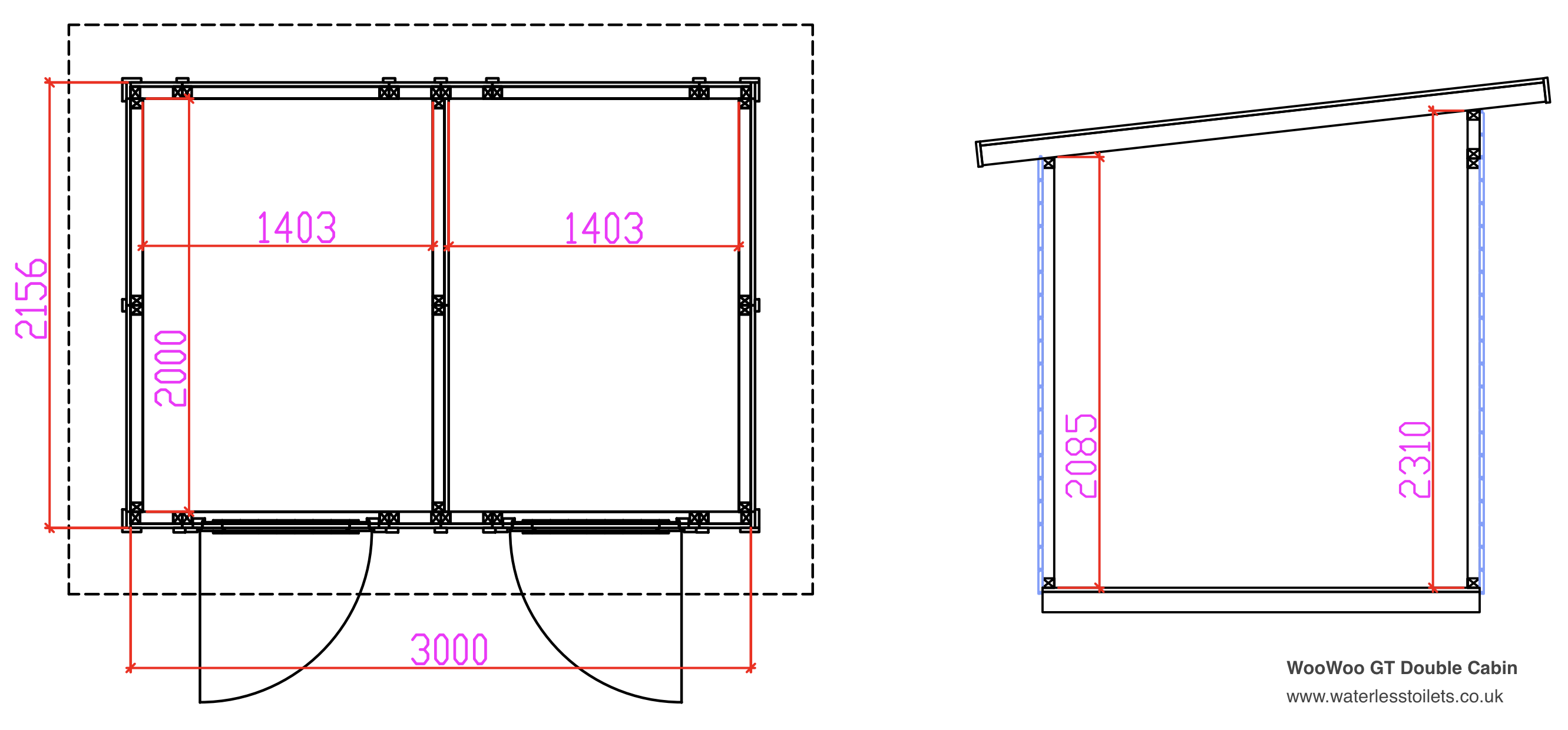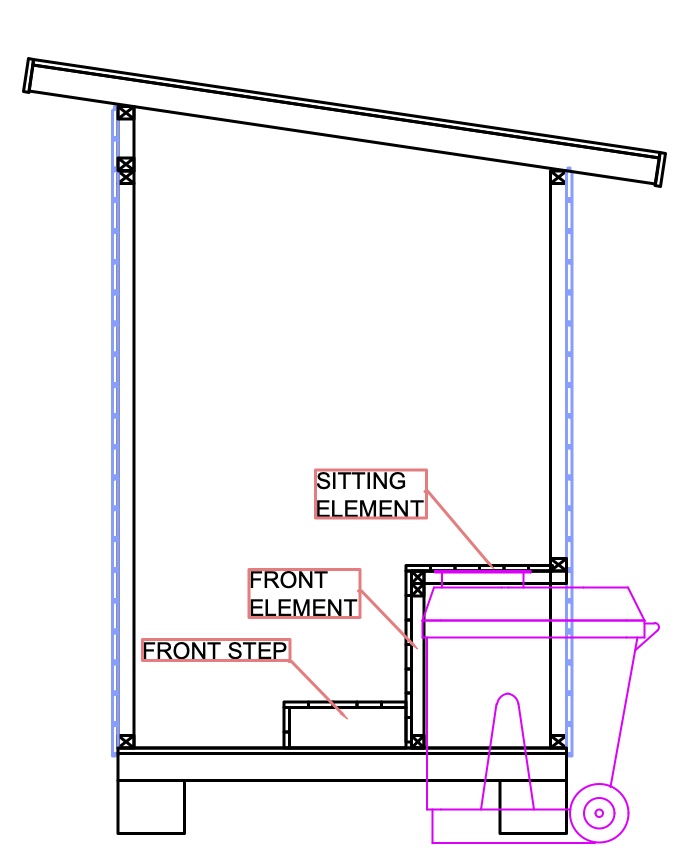 What do you have to do?
The cabin is delivered on an oversized pallet as a 'flat pack' of components. The packaged dimensions are approx. 1150 mm deep, 2260 mm long, 1000 mm height and an overall weight of around 1000 kg.
We estimate that full assembly will take around 2 days for two people, depending on the ground conditions and extent of any groundwork required. The assembly and construction is more akin to that of a garden building than a 'shed'.
The cabin should be assembled on concrete blocks (such as lightweight cinder blocks – not included) as a foundation to keep it off the ground and to reduce the possibility of damp and rot. Details for the foundation are available in the installation manual. The foundation, in conjunction with the large roof, means water will be kept well away from the structure, making it last longer than your typical garden 'shed'.
WooWoo does offer an installation service, priced according to your location. Please get in contact if you would like a quotation for installation.
The exterior wood will require treatment to protect it from the harmful effects of UV radiation and to help prevent mould and mildew. Depending on your taste, you can choose from clear, various natural wood colours, as well as solid colours to blend in or contrast with the surroundings. You can leave the interior as natural wood, or decorate it to suit!
Is Planning Permission Required?
In the UK, under 'permitted development', you are usually allowed to have a pent roof building with a maximum roof height of up to 3 metres, provided the structure is more than 2 metres away from your boundary. However, certain areas may have additional planning constraints, (such as national parks, areas of outstanding natural beauty, world heritage sites or conservation areas), which will mean planning permission will be required.
If you are unsure, always seek advice from your planning department – it's your responsibility to ensure you comply with local and national planning regulations.
What's included?
The shipment is usually delivered on an oversized pallet as a kerbside delivery. Depending on your location, you may need to assist with offloading the components from the delivery vehicle. The weight is over 1000kg.
The price includes all wall, floor, roof, roofing felt and door parts, together with appropriate screws and nails. Also included is the sloping access ramp and wooden toilet bench.
The price does not include the WooWoo GT container or ancillary components (vent pipe, wind cowl etc) which will need to be ordered/sourced separately. Foundation blocks will also need to be sourced locally from your builder's merchant.
Component Specifications
Walls:
Panel 21mm x 120mm – spruce
Frame 45mm x 58mm – spruce
Cornerboards 21mm x 95mm – spruce
Coverboards 21mm x 58mm – spruce
Floor:
Floorboard 21mm x 95mm – spruce
Floor joist, pressure treated 48mm x 98mm – pine
Roof:
Roof board 21mm x 95mm – spruce
Roof joist 45mm x 95mm – spruce
Fascia boards 20mm x 120mm – spruce
Roof felt:
Bitumen-based roofing felt and underlay
Downloads
Installation manual: download here