How do you provide high-capacity toilet facilities in a remote location, away from fresh water and sewerage, make them simple and hygienic for visitors to use and keep the maintenance and management of them as easy and straightforward as possible?
This was the challenge that faced Finnebrogue Woods!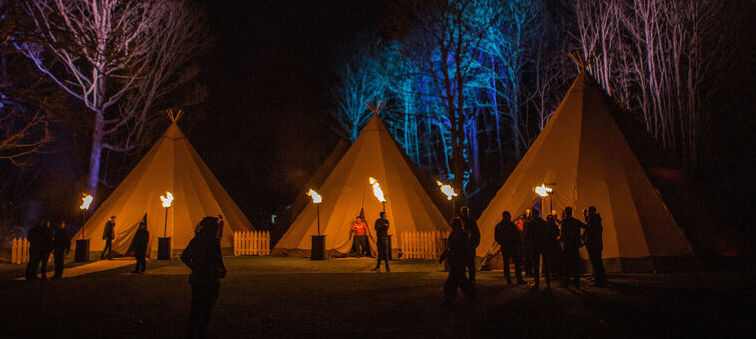 Finnebrogue Woods is a stunning wedding, entertainment and activity venue in Downpatrick, County Down. Surrounded by ancient woodland and with a beautiful lakeside setting, the site has been sympathetically developed by the owners to work with and enhance the beauty and aesthetic of the landscape to provide a natural setting for guests and visitors to use and explore.
With such a rural setting there are inevitably issues with getting access to sewerage for flushing toilets, and the costs and planning and environmental implications of installing a septic tank. Added to that is a desire to be more 'in tune' with nature, so it's understandable that many people start to look at composting toilets.
Finnebrogue Woods search for the right composting toilet happily coincided with WooWoo launching the WooWoo GT in the UK – a high capacity 'batch' composting toilet that's perfectly suited to this type of location as they don't require water, sewage or power to operate.
Utilising a position on a natural slope meant that the WooWoo GT 330 batch composting container can be positioned slightly under the building so guests have a standard height toilet seat.
Fortunately for Finnebrogue Woods, they have a brilliant carpenter who managed to make a stunning twin toilet building that really blends into the environment.
The WooWoo GT 330 'starter kit' comes with two containers – one is in use whilst the other continues composting away from the building (the WooWoo GT system has wheels to make moving straightforward). After each use, the guest places a handful of sawdust or shavings down the toilet and nature takes care of the rest. The natural wind-assisted ventilation system draws any odours and moisture up and away, and once the container is around 1/3 full, composting will begin 'in situ'.
Rotating the two containers means that you are emptying finished compost and not manure.
With the WooWoo GT system, both urine and faeces go directly into the container (no separator is used, so less chance of guests misusing the toilet) and the self-regulating base allows excess leachate to come out of the system, promoting the correct moisture levels for aerobic composting to take place.
Find out more about Finnebrogue Woods on their website:
https://finnebroguewoods.com/
Find out more about the WooWoo GT 120 and GT 330 below. You can also download free plans to make your own building…
---
If you've got a project in mind and would like to discuss it with one of the friendly team at WooWoo, get in contact today!