Description
Separett Tiny gives you freedom to go further in your home from home!
The new Separett Tiny with Urine Container is a compact urine-diverting toilet for mobile users that gives you the freedom to travel further and stay where you want… for longer. And all without searching around for an elusive chemical toilet disposal point.
It's the perfect waterless eco-toilet for adventurers everywhere, whether your home from home is a boat, motorhome, narrowboat, RV, overlander, or caravan.

Open the Separett Tiny to remove the urine container and you'll find that the solids area remains covered from view with clever, automatic concealing flaps (they open as you sit down and close as you stand up). Now that's thoughtful!
As you empty the urine container, the wide opening and air valve means you can go from full to empty in a few seconds without glugging or splashback. Now that's clever!
The low-power, low-voltage ventilation fan is quiet and efficient, removing all smells and keeping condensation at bay, ensuring the Tiny is 100% odour-free without chemicals or sawdust. Now that's simple and eco-friendly!
The all-new design looks sleek and modern, yet is only 40cm wide and 50cm deep and can be installed right up against a wall with no pipes on show. The seat height is the same as a regular toilet for that 'at home' feeling. Now that's comfortable!
The Separett Tiny is your ticket to freedom. Thoughtful, comfortable, clever and eco-friendly.
Features
New 2023 model with improved concealing flaps!
European Product Design Award 2021 – Sustainable Living/Environmental Preservation/Rural Sustainable Design.
Modern, compact and functional
No need for water or sewage connections
5-year manufacturers warranty
Urine-diverting bowl separates liquids and solids for reduced odour and ease of maintenance
Automatic concealing cover over solids container hides contents from view
12v or 230v fan draws odours out and away for odour-free use
Numerous ventilation options (through the floor, through ceiling** or through the side)
7.1 litre urine container
14.5 litre solids container
** Optional pipework may be required
Benefits
Looks great in any bathroom without taking up much space
No need for chemicals or water – the environmentally friendly option
Anti-splash baffle in urine container keeps the contents inside when you're on the move
Provides up to a week of capacity for solids so that you can travel further
Easy and rapid urine emptying with no glugging
Alerts you when the urine container is nearly full so no overflows!
So easy to use – just sit down, do your business and then stand up: no buttons to press or sawdust to add
Specifications
Unlimited capacity: empty as and when required
The Tiny is 8.5kg (without accessories. Package weight is 12kg)
Max user weight 150kg
Length 49.7 cm | Width 39.8 cm | Height 47 cm (seat height 45-46cm)
Made from recyclable high-gloss polypropylene
Emptying cycle for 2 users: liquids every 3-4 days, solids once a week
Energy: 0.04 kWh/day – 12 V / 1.6 W / 133 mA (230v adaptor included)
Power lead length: 1.5m
Vent pipe diameter: 50mm (outer diameter)
Noise level: <30dB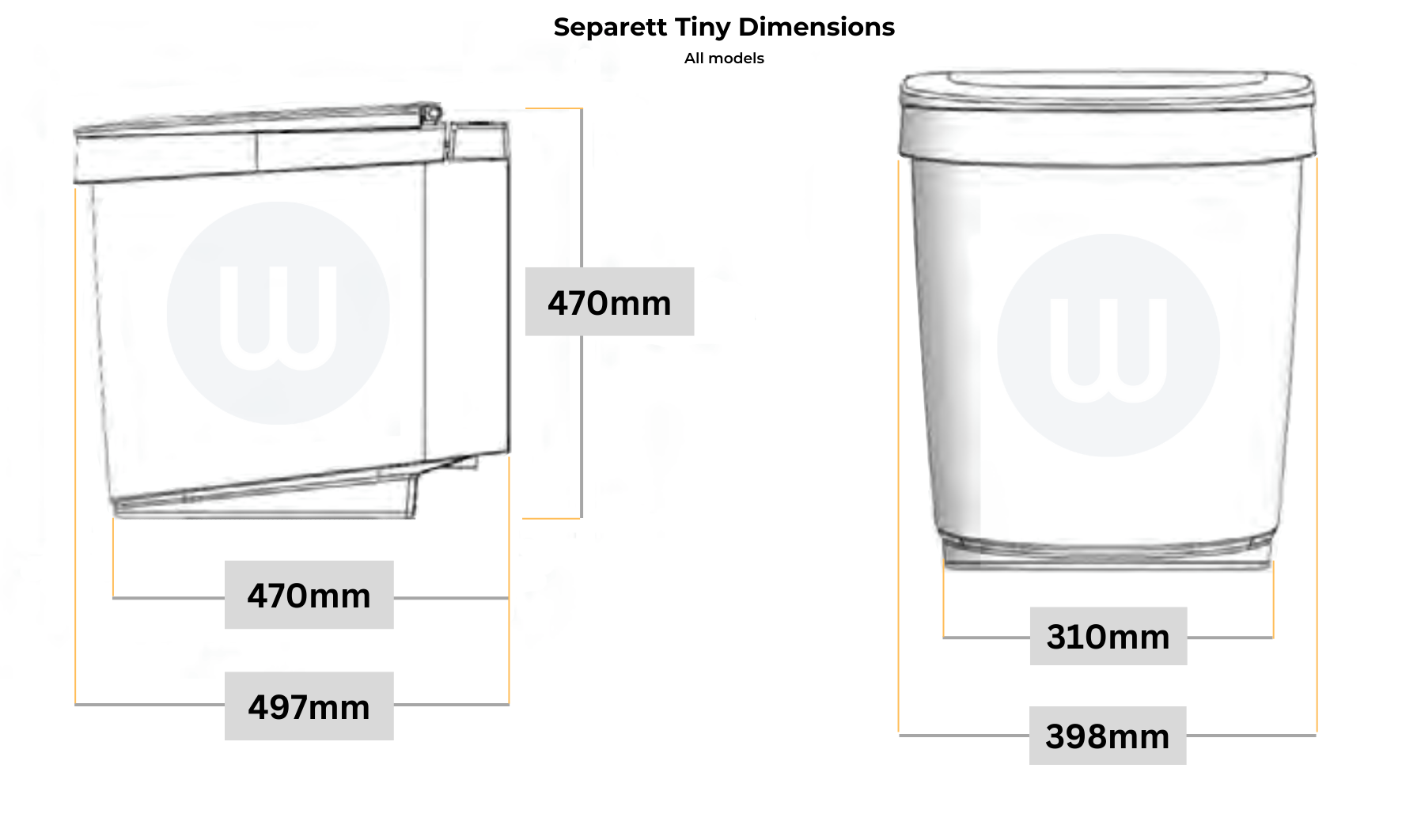 Included Parts
For standard installations (where the maximum vent pipe length is under 40cm), everything is included apart from tools!
Separett Tiny toilet
User & installation manual including hole-cutting template
110-230V AC universal adaptor
Solids container with lid
Urine container with caps
Ventilation pipe – 40cm length
Ventilation pipe grill with insect screen
Ventilation cowl (rain/dirt cover)
Holder for bio-drain block
Screws for wall or floor mounting
Sample pack of consumables: compostable bags, bio drain block, absorb pad
Installation
Take a look at the Tiny installation video below to see what's involved – this video shows the Tiny with urine extraction so, with the version that has the urine container, the installation will be easier as you don't have an external urine pipe to connect!
The vent pipe should run to the outside to ensure odours and excess moisture are removed. When considering where the vent pipe will go, always try to have the shortest length possible, avoiding any structural elements (for example a chassis cross member in a vehicle). For installations where this might be difficult, you can use flexible 50mm 'dust extraction' pipework to get around awkward objects.
Maintenance and cleaning
Separett Tiny should be cleaned with an environmentally friendly non-abrasive cleaner. Regularly rinse the filter in the fan duct with water to maintain good ventilation.
The urine container should be thoroughly cleaned after every third emptying or if there is a break in the use of the toilet. Fill about ¼ of the urine container with water, close the caps and shake hard to clean the insides of the container. Pour away the water. Eco-friendly cleaners such as Ecover toilet cleaner can be used, but ensure they are carefully disposed of.
Optional extras
Depending on your installation you may wish to purchase the following optional extras:
Links & downloads
Check out our installation gallery for some inspirational photos of how other users have installed their waterless toilets!
After-sales service and support
WooWoo is the exclusive distributor for Separett in the UK and Ireland. We have a wide range of accessories and spare parts available if required. In addition, our legendary support team are on hand with any technical or operational queries you have.