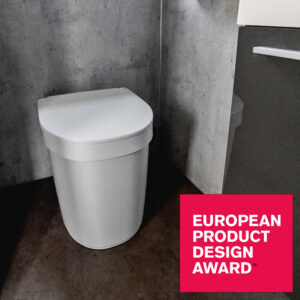 Since its launch in April 2021, the Separett Tiny® waterless/compost toilet has gained a huge amount of interest and admiration from users all over the world. Here in the UK, we happy customers who have them installed in homes, garden buildings, narrowboats, and campervans.
People love the sleek, modern design and the features that Separett have designed to make it easy to use and maintain.
It comes as no surprise that the Separett Tiny has now been recognised with European Product Design Award (ePDA) in the category "Sustainable living/Environmental preservation/Rural sustainable design".
The judges made the following comments:
"A small and compact waterless and odour-free toilet for a modern-day living. The need for the waterless toilet is increasing all over the world. With this toilet, Separett has taken their knowledge of urine-diverting toilets and put it into a small toilet with a modern design to fit the tiny house movement. Tiny enables water to be saved and nutrients to be put back into nature."
If you're interested in getting an award-winning Tiny, jump over to our online shop…