The Separett Villa has been in production for over twenty years! It's a huge testament to the original design and development, that incredibly little has changed over those years!
However, Separett has recently announced that they are rationalising the Villa product name and model numbers, and in the process, they're dropping one model.
From this point forward, there will be just two models available, the Villa and the Villa Extend.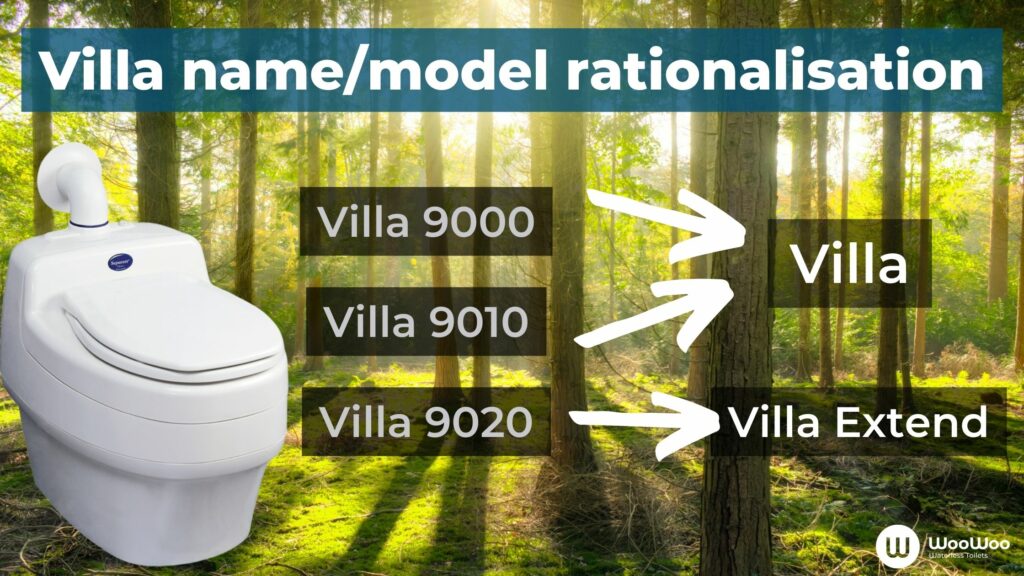 The Villa is effectively what was previously known as the Villa 9010 – it has an internal ventilation fan that can run from either 12v DC (solar & battery for example) or 230v mains electricity (with the included power adaptor that fits a 3-pin 230v mains socket).
The power supply options give you maximum flexibility to run the ventilation fan from whatever power source you have now, and to change in the future if needed! Power consumption has also been reduced to around 2 watts at 12v DC.
The Villa 9000, which was 230V mains-only has been discontinued. A couple of years ago, Separett started to fit a better quality, more durable fan to the Villa 9010, and this new fan has been shown to be a big improvement on the old 12v fan, both in terms of long-term performance and the amount of air it can move.
For those people who need greater solids holding capacity and have suitable space/access underfloor, the Villa Extend is ideal and is the new name for the Villa 9020. Apart from the name, nothing else has changed – the Villa Extend, like the Villa, has an internal 12v ventilation fan and mains power adaptor.
There's a huge variety of ways to run the ventilation system with your Villa – check out our recent blog post for more details.
Regardless of whether your Villa is going to be installed in a house, shed, mobile home, glamping site, allotment or garden office, it's still an ideal choice as a durable waterless toilet that can help you produce compost that will nourish the earth.
Find out more about the specifications by clicking on the links below: